Welcome
Welcome to my website!
This website exists to provide clients and potential clients with information concerning my firm and my unique, low-pressure approach to personal and professional services. I have an excellent client-retention rate, and I am extremely proud of the high-quality services that my firm provides.
Please, feel free to browse my website to see the services I offer as well as the many helpful resources I provide. When you are ready to learn more about what I can do for you, I encourage you to contact me.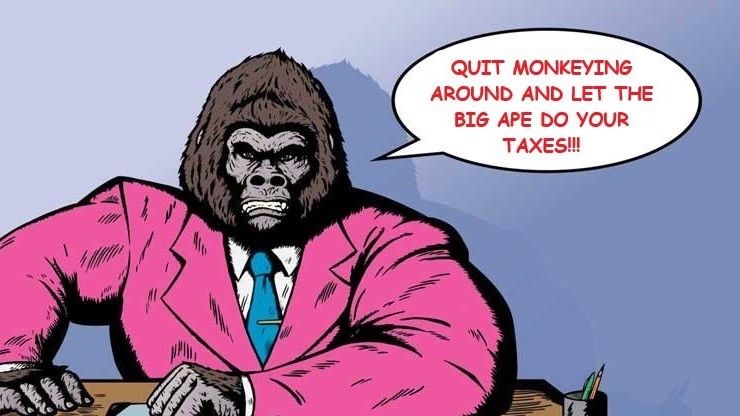 With Over 30 Years of Experience, the Big Ape has the Knowledge and Expertise to Ensure Professional, Accurate, High Quality Service
The Big Ape is introducing a new way for you to have tax prep and tax planning all in one at an affordable price. Most tax plans cost over $2,000 and with tax prep for W-2 employees is $250+ and if you have a rental or side gig add another $50-$100 for tax prep and $1,000 for planning. That is over $3,300 in services. If you are a corporation add another $3,000 or more.
Too many times I have someone walk into my office and said they did a ten thirty-one exchange to find out they did it wrong or say they have been drawing from their retirement account and I find out they did not draw enough for required minimum distributions or had long term losses and cashed in short term gains thinking that they will cross each other out or their real estate agent telling them they get to a bigger deduction if they buy a home. Time to stop listening to tic-tok and listen to a tax professional. Quit monkeying around and let the big ape do your taxes.
The Big Ape is changing the way you can have top quality tax prep and get a top tier tax plan for now and later. He has created a program that you will have access to him year-round for your personal and business needs. We pay taxes every day, not just in our paychecks or at tax time. We pay taxes at the gas pump, shopping, dining out, that soda or coffee you drink, property tax, and when you travel hotel and airfare taxes. You pay enough on taxes. Time for someone to get you thinking about paying less taxes now and in the future.
Some other type of taxes you pay is bank fees, either through credit card fees, bank fees, convenience fees, fees in our retirement and brokerage accounts. Some are necessary but some aren't, nevertheless we still pay them.
The big ape has come up with three types of plans. The first is only personal, with just the following forms with or without dependents and itemized deductions: W-2. 1099-R, SSA-1099, 1099-G
The second is personal with a side business. This usually involves a schedule C or E. This requires the personal and business planning.
The third is personal with a corporation ( LLC, C-Corp, or S-Corp) and is more complex that requires both personal and business.
There are variations of those three, but most will fall into those types.
Go ahead and start thinking of tax savings year-round, not just at tax time.
Quit monkeying around and start the Big Ape way now!